What is homecare?
Homecare is a system under which a professional
homecare nurse periodically visits you to provide
treatment and nursing based on a doctor's prescription,
when you have a condition requiring constant treatment and nursing.
Introduction to Homecare
It can be difficult to regularly visit a hospital, can't it?
No more worries. Our professional homecare nurse will come to you, on a regular basis.
Professional homecare nurse
Our professional homecare nurses, licensed by the Minister of Health and Welfare, have worked at our main hospital for over 10 years
Benefits of homecare
You can receive some of the medical services received by hospitalized inpatients right at home, enabling the following benefits:
·You can receive a constant treatment and nursing service.
Even patients with difficulty moving freely can receive continuous treatment and nursing service.

·You can maintain your psychological stability and home life.
You can have peace in mind and keep your normal home life as usual.

·You can reduce your medical expenses.
Medical expenses and indirect costs are reduced.
Business Flow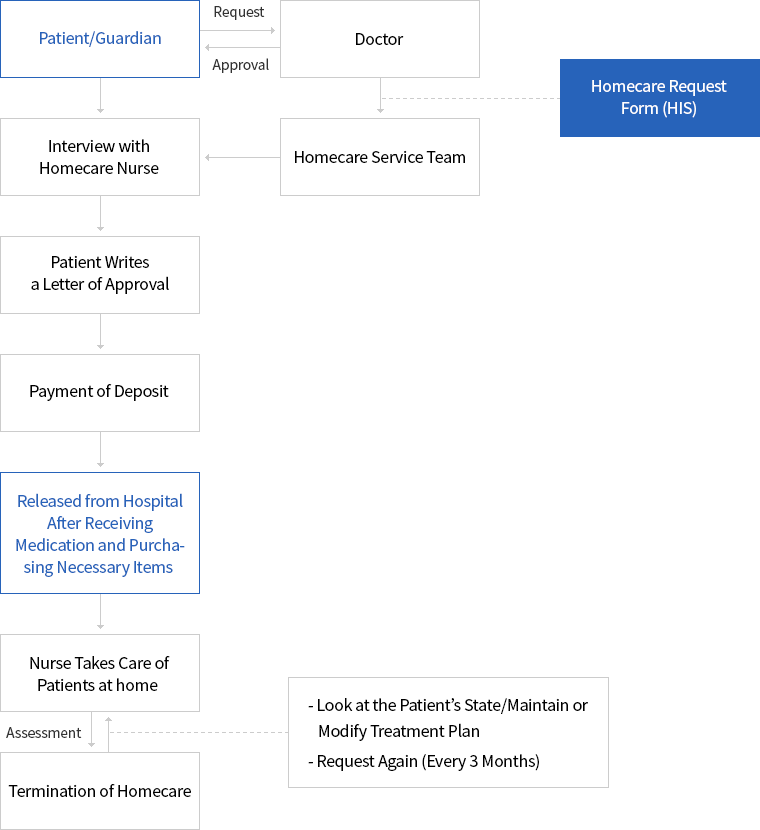 Patient/Guardian (Request)> Doctor, Doctor (Approval)> Patient/Gua rdian, Doctor (Homecare Request Form (HIS))> Homecare Service Team, Homecare Service Team > Interview with Homecare Nurse, Patient/Guardian > Interview with Homecare Nurse, Interview with Homecare Nurse > Patient Writes a Letter of Approval, Patient Writes a Letter of Approval > Payment of Deposit, Payment of Deposit > Released from Hospital After Receiving Medication and Purchasing Necessary Items, Released from Hospital After Receiving Medication and Purchasing Necessary Items > Nurse Takes Care of Patients at home, Nurse Takes Care of Patients at home (Assessment)> Termination of Homecare, Termination of Homecare (Look at the Patient's State/Maintain or Modify Treatment Plan, Request Again (Every 3 Months))> Nurse Takes Care of Patients at home