Admission Procedure
At SNUH in order to be admitted you have to pay a deposit fee. The deposit fee is an estimate of your treatment. Each patient's hospital charges are individual. The actual charges could be more or less at the completion of the patient's treatment.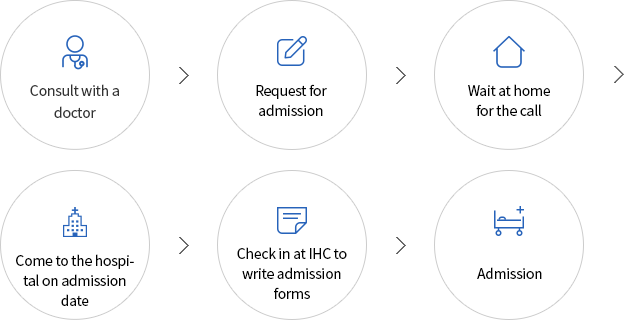 During Your Stay
Your Room
All patient rooms at SNUH are designed for your comfort. While we cannot guarantee the availability of
a particular room on the day of your admission, we will work to honor your request and ensure that
you are accommodated in the area most appropriate for your health care needs. Please tell us about your
inpatient room type - private, semi-private or shared room.
Food at the Hospital
We provide Korean, Western, Halal Meals for the patient.
Internet Access
Free Wifi (snuhguest) enabled areas throughout the hospital : Inpatient public areas , Outpatient waiting areas, Main cafeteria
TV
TV channel : We provide TV channels in various languages
Convenient Facilities
More

Visiting Hours
General Patients' room / Psychiatric Ward
General Patients' room / Psychiatric Ward(General patients' room, Psychiatric Open Ward, Psychiatric Ward(Adult, Pediatric))
General patients' room
Psychiatric
Open Ward
Psychiatric Ward
Adult
Pediatric
Weekdays : 17:00 ~ 20:00
Weekdays : 16:00 ~ 21:00
09:00 ~ 20:00
Weekdays : 13:00 ~ 19:00
Weekends &
Holidays
10:00 ~ 12:00
Saturday : 13:00 ~ 21:00
Saturday : 10:00 ~ 19:00
17:00 ~ 20:00
Holidays : 09:00 ~ 21:00
Holidays : 10:00 ~ 19:00
Intensive Care Unit(ICU)
Intensive Care UnitInternal Medicine Intensive Care Unit, Surgical Intensive Care Unit, Cardiopulmonary Intensive Care Unit, Pediatric Intensive Care Unit, Neonatal Intensive Care Unit)
Intensive Care Unit
Internal Medicine
Intensive Care Unit
Surgical Intensive
Care Unit
Cardiopulmonary
Intensive Care Unit
Pediatric Intensive
Care Unit
Neonatal Intensive
Care Unit
10:00 ~ 10:30
10:30 ~ 11:00
10:00 ~ 10:30
10:00 ~ 10:30
13:00 ~ 13:30
19:00 ~ 19:30
20:00 ~ 20:30
19:00 ~ 19:30
20:00 ~ 20:30
19:00 ~ 19:30
Discharge Procedure
Patients must be confirmed by an SNUH physician in order to be discharged from the hospital.
We will explain and help you with your discharge process including medication, your next plans, payment and etc. When you need a receipt in English, please tell the IHC staff and we will prepare it for you.

FAQ
4 hours of parking is covered on the day of admission and on the day of discharge.
On Admission Day it is advisable that the patient bring the following items :
Plastic water cup and water bottle
Plastic slippers (for the Bathroom)
Shower Kit consisting of toothbrush and toothpaste, disposable tissues, bath towels and other sundries for personal grooming
Please note that all of these products can be purchased from Hospital Services for a small fee or
are available at the basement market below the Children's Hospital or at the supermarket
in the main building lobby.
Stay of the guardian

One guardian can stay with a patient during the hospitalization.
However we provide blankets for the patients only so the guardian should bring his/her personal items
including blanket and pillow.

Guidance for inpatients

Guide Download