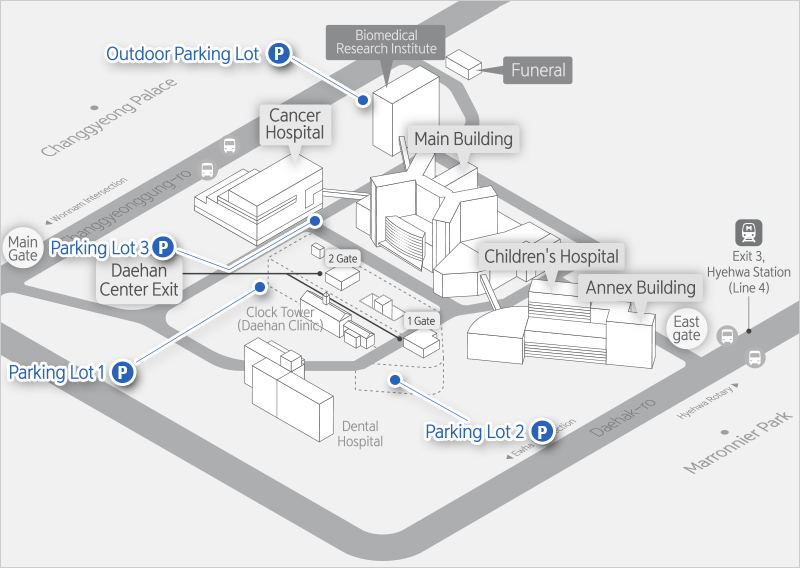 Parking lot size
Parking Lot 1

5th underground floor: 951 spaces




Parking Lot 2

4th - 6th floors underground: 554 spaces

Parking Lot 3

3rd underground floor: 258 spaces

Outdoor Parking Lot

4th floor and 2nd underground floor: 300 spaces
Parking fees
Parking fees (hours, fees, remarks)

Hours

Parking fees

Remarks

Daytime (07:00 - 22:00)

1,500 won for 30 minutes (Free if leaving within 15 minutes) 500 won for every additional 10 minutes




Nighttime (22:00 - 07:00)

1,000 won




Season ticket
*Only inpatients and guardians can apply.

50,000 won for a 3-day pass 5,000 won for an additional day after 3 days (First 3 days must be used in a row.)

Useful for frequent exits Only guardians of inpatients can apply. (Not available for outpatient treatment)

Long-term parking

30,000 won for one-day pass 10,000 won per additional day

Useful for short-term inpatients
Parking fee discount
주차요금 감면내역(감면구분, 감면시간, 비고)

Discount category

Free hours

Remarks




For appointments only
For interim payment of hospitalization fees




1 hour

Medical examination ticket or receipt required




Vehicles of people of national merit and people with disabilities (once a day when holding a welfare card)
Garden View customers




3 hours

Certificate required




Hospitalization, discharge, same-day consultation, various tests (However, this is not applicable for consultation/surgery during hospitalization.)
Families of a patient in a special room or single room (up to 1 unit)




4 hours

Medical examination ticket or receipt required




Same-day consultation or hospitalization




6 hours

Medical examination ticket or receipt required




Consultation in 2 departments per day
Special examination (bone scan, laparoscopic surgery, nuclear medicine examination, day ward, MRI, etc.) (However, this is not applicable for consultation/surgery during hospitalization.)




8 hours

Medical examination ticket or receipt required

Emergency room, PET-CT, polysomnography, Gamma knife, health promotion center, hemodialysis, day ward, hematologic oncology emergency room, nuclear medicine, hospitalized and discharged patients on the same day, etc. (However, this is not applicable for consultation/surgery during hospitalization.)

24 hours (1 day)

Medical examination ticket or receipt required

Small cars

50%



After patients are admitted into the hospital, it is advised for their families to bring their vehicles out of the parking area to avoid excessive parking fees and facilitate parking for outpatients and visitors.
Long-term parking information: You can purchase a season pass (50,000 won for 3 days, 5,000 won per additional day) at the parking management office.
Parking fee inquiry and refund: For refunds, submit a medical treatment receipt or medical card and your parking fee receipt to the parking management office.
For more information, call
Parking management office: 02-2072-2908

Funeral parking lot: 02-2072-2051