Seoul National University Hospital launches non-face-to-face medical service for overseas citizens
Hit : 1,273
Date : 2023-01-26
- International Medical Center-Health Connect, signed a business agreement for non-face-to-face treatment and counselling services
- Overseas Korean patients can easily use the 'HealthOn' app for diagnoses and payments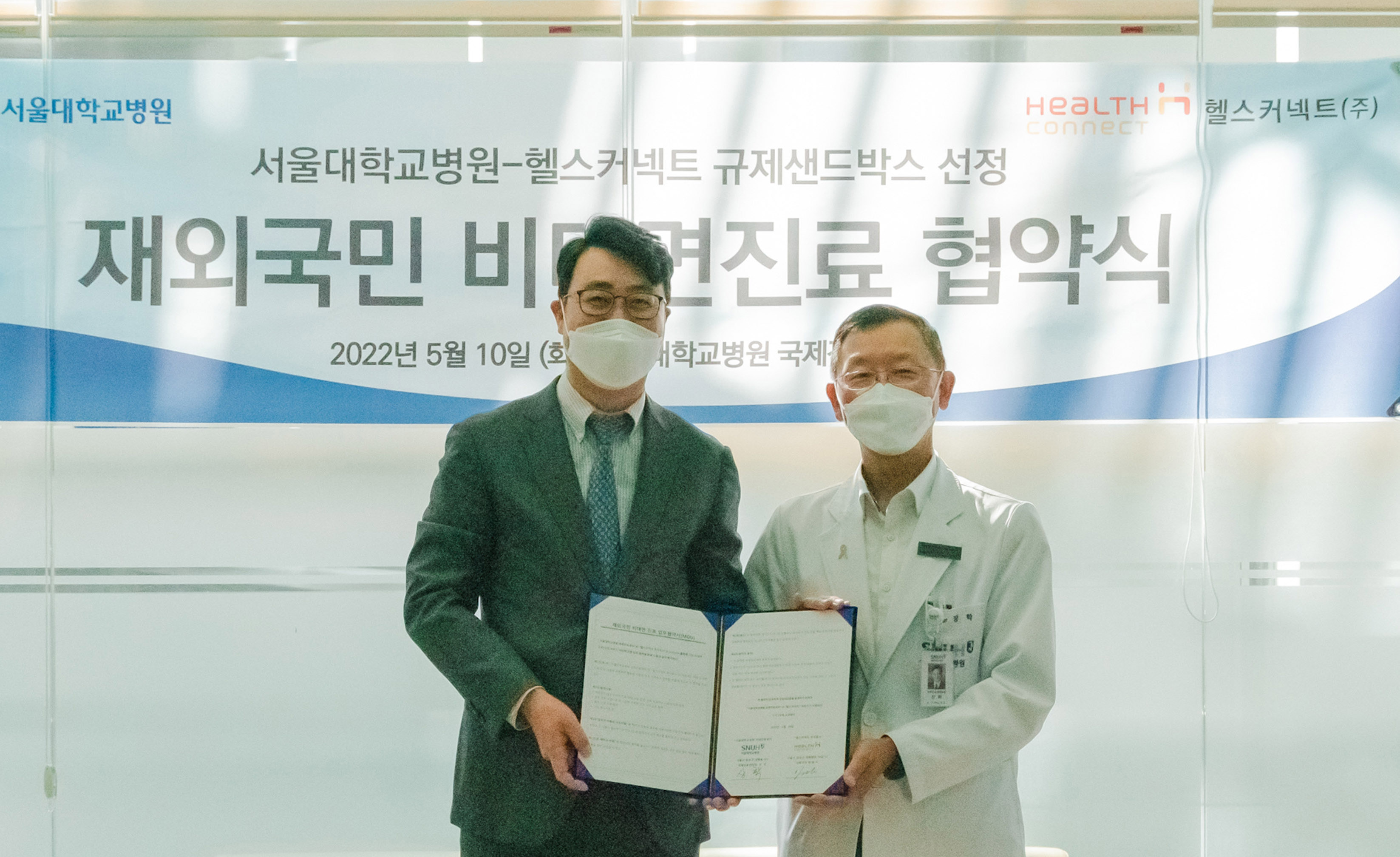 [Picture from left] Lim Dong Seok, CEO Health Connect and Chang Hak, SNUH International Medical Center Director
Seoul National University Hospital International Medical Center collaborated with Health Connect, a digital healthcare company, to provide non-face-to-face medical services to overseas citizens.
SNUH announced on the 16th of May that it had signed a business agreement in the presence of Chang Hak, SNUH International Medical Center Director and Lim Dong-Seok, CEO of Health Connect, for non-face-to-face treatment and counselling for overseas Koreans, on the 10th of May 2022.
This agreement was signed to improve convenience for overseas Koreans who are restricted from using local medical services due to the global epidemic of COVID-19.
According to the agreement, overseas patients can receive non-face-to-face disease diagnoses, advice, and prognosis management from medical staff at the International Medical Center based on health records entered in the HealthOn app. After treatment, the issuance of a statement of opinion and a receipt service is also conveniently provided in the app. The service will first be provided to overseas citizens in the United Arab Emirates (UAE).
"It is the national central hospital's responsibility to protect citizens living abroad," said Chang Hak, head of the International Medical Center at SNUH. He also said, "I hope this agreement will serve as an opportunity to take the lead in protecting overseas citizens by providing them with a stable and convenient medical platform and appropriate medical services."
Lim Dong-Seok, CEO of HealthConnect, said, "Through this agreement, overseas Koreans have a secure way to receive medical services from SNUH, which is the best in Korea." And that, "We will gradually expand services for overseas Koreans who are currently in blind spots of medical care in overseas countries".
HealthOn is a digital healthcare application developed by HealthConnect. It obtained temporary permission to be launched through the industrial convergence regulatory sandbox system of the Ministry of Trade, Industry and Energy in December last year.