Seoul National University Hospital's next-generation groupware 'BESTWorks 1.0' officially opened
Hit : 1,746
Date : 2022-12-20
- SNUH starts full-scale operation of next-generation groupware based on public cloud
- Establishment of the first G-Cloud-based unconstrained work environment for a large public medical institution in Korea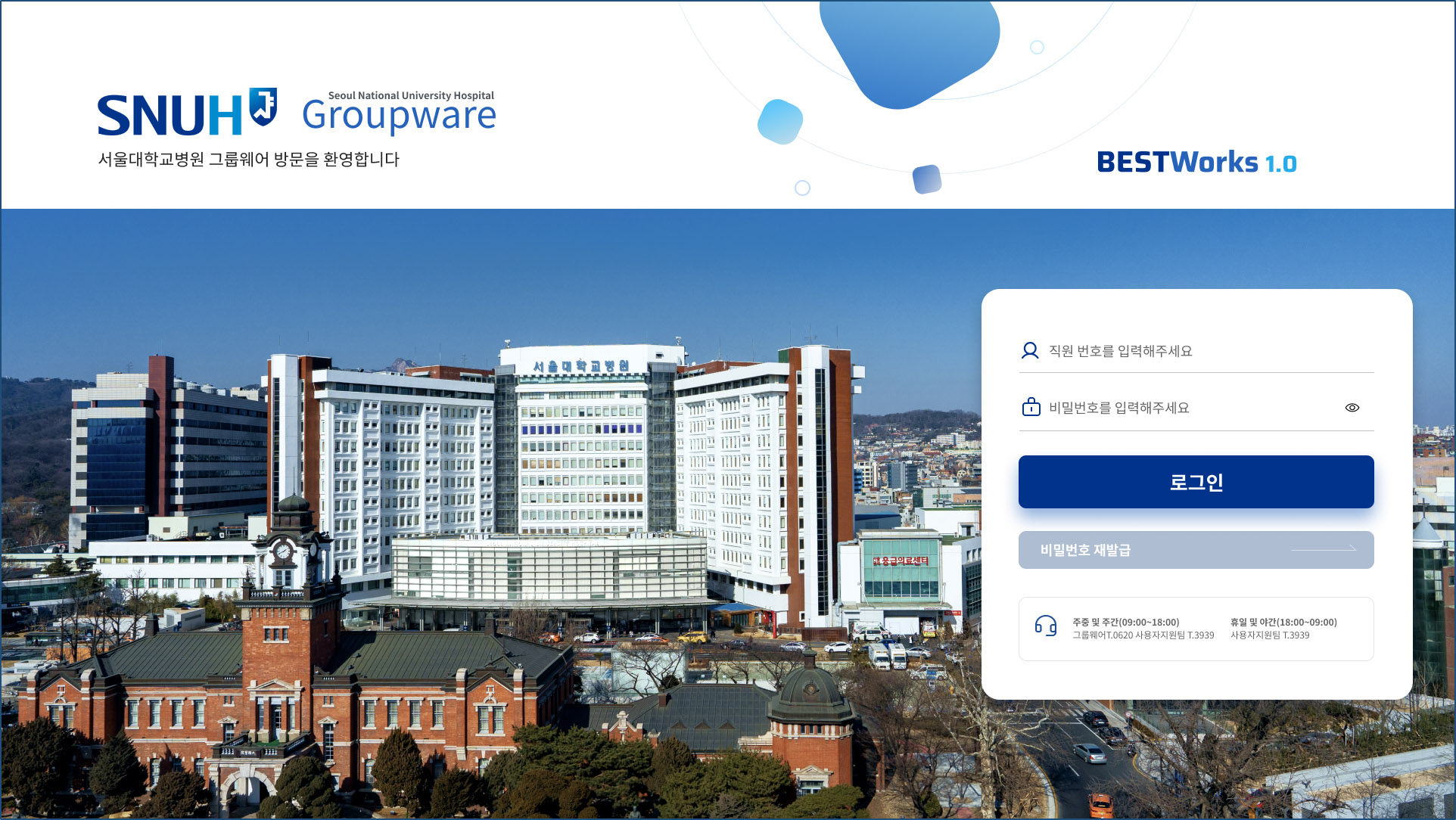 [Photo] SNUH officially opened its next-generation groupware 'BESTWorks1.0'.
Seoul National University Hospital (Director Kim Yon Su) officially opened the next-generation groupware 'BESTWorks 1.0' on the 1st of May 2022.
This is the first public cloud-based groupware introduced by a large public medical institution in Korea and, starting with the case of SNUH, is expected to take the digital transformation of the medical system a step forward.
BESTWorks1.0 is next-generation groupware that is built on a cloud basis, enabling 24-hour security management and flexible server expansion. Unlike before, there are fewer restrictions on groupware installation and management, reducing management costs and greatly improving hospital administration efficiency.
In addition, through development that complies with web standards, it is now possible to perform work that is not restricted by the IT environment. In addition, unlike the existing system, this one has been designed and implemented with a flexible structure adaptable to user requirements to enhance convenience.
Furthermore, ESG management was practiced by realizing a non-face-to-face, paperless environment that adopted an electronic payment method, and safety was secured in tasks such as payment processing, e-mail transmission and reception, and portal access using the cloud that incorporates a Security Certification System (CSAP).
Director Kim Yon Su said, "I hope that the introduction of next-generation groupware at Seoul National University Hospital will be a milestone in the digital transformation of the healthcare sector, which has become a topical issue recently.', and added, 'Through our newly introduced groupware, we are creating a work environment that will improve work efficiency and let us focus on core work."
Moreover, SNUH is continuously pursuing innovation to improve the work system in the hospital following the complete reorganization of the existing medical information system into a 'next-generation HIS platform' in 2016.