Seoul National University Hospital (SNUH), succeeds in hospital-produced CAR-T treatment for the first time in Korea
Hit : 2,339
Date : 2022-10-21
- Pediatrics and CAR-T treatment clinical study for pediatrics and young adults under 25 years of age
- Leukaemia cells completely disappeared in the first patient to be treated with an injection of CAR-T treatment produced by SNUH
[Photo] The first CAR-T treatment produced by a domestic hospital administered to an 18-year-old leukaemia patient was a success
(From left, patient under treatment / CAR-T treatment production facility / discharged patients and medical staff)
SNUH announced on the 5th of April that it had succeeded in administering the first effective CAR-T treatment produced by itself among domestic hospitals to an 18-year-old pediatric leukaemia patient.
CAR-T treatment is a customized treatment in which immune cells (T cells) obtained from the patient's blood are genetically modified so that they can recognize cancer well, then cultured and put back into the patient's body. Immune cells precisely target cancer cells while minimizing damage to normal cells in the body. The treatment has attracted attention as being innovative and cutting-edge.
Recently, Prof Kang Hyung Jin's team from the Department of Pediatrics at SNUH has been conducting a researcher-led clinical CAR-T study in a hospital for relapsed/refractory children, adolescents and young adults under the age of 25 with acute lymphoblastic leukaemia. Professor Kang's team prepared the entire process from the production of CAR-T treatment to patient care after administration for the first time in domestic hospitals in a mission to save leukaemia patients.
It is the result of SNUH's effort throughout 4 years since 2018 to develop CAR-T which is innovative but difficult-to-reach for patient due to high cost. In the past, it required a lot of manpower and equipment to produce CAR-T, but by introducing Miltenyi Biotec's automated production machine to the hospital, we were able to build our own more resourceful CAR-T production system.
The first patient to receive CAR-T treatment this time is a Philadelphia chromosome-positive, highest-risk acute lymphoblastic leukaemia patient. She had previously undergone a hematopoietic stem cell transplant, but it recurred. Afterwards, a new targeted therapy combination therapy gave a remission, but micro-recurrence made it difficult to give further treatment.
On February 15th, after collecting lymphocytes from the patient's peripheral blood, the production of CAR-T treatment started immediately on the 16th. Production was successfully completed in exactly 12 days, and on February 28, the CAR-T cell treatment was administered to the patient.
The patient initially developed cytokine release syndrome, a typical immune response after CAR-T administration, but overall, the treatment went well and she was discharged from the hospital on the 17th of last month.
Then, on March 28, a follow-up bone marrow examination was performed, and it was confirmed that their leukaemia cells had completely disappeared. The patient is now in a healthy state without experiencing any side effects. To date, two patients have been treated with CAR-T.
In the case of CAR-T administration, which has recently been decided to be provided for by health insurance, it can take about three weeks or more to freeze cells extracted from a patient's blood and send them to the United States to make CAR-T, re-freeze it, then have it sent back and injected it into the patient. On the other hand, when CAR-T is produced in a domestic hospital, the advantage is that it can be administered much faster.
Prof Kang Hyung Jin, who is in charge of the study, said, "In the case of patients with refractory relapsed leukaemia covered by health insurance in the future, [Kymriah] treatment will be implemented immediately.", "We plan to proceed with the CAR-T clinical study produced by SNUH on patients exempted from [Kymriah] health insurance coverage, such as microleukaemia recurrence, extramedullary recurrence such as cerebrospinal cord, and remission after transplantation but remission due to chemotherapy."
He continued, "This study is very meaningful in that a research institute directly produces CAR-T and has established an integrated system that enables treatment management after administration of the CAR-T to patients. Regarding many new CAR-T treatment products being developed in Korea, we hope they will enter clinical trials easily through this SNUH system."
Meanwhile, this hospital-produced CAR-T was developed as a research-oriented hospital project led by Prof Kim Hyo Soo of SNUH and was approved as Korea's first high-risk, advanced regenerative medical clinical study in December last year. In January of this year, it was selected as the first new project of the 2022 advanced regenerative medicine clinical research support project and its clinical research is being conducted with national research funding.
SNUH announced that it plans to establish a one-stop CAR-T development system through its own preclinical testing, GMP production facilities, and clinical testing facilities. It is expected that this will revitalize the development of new CAR-T and early clinical research being developed in Korea.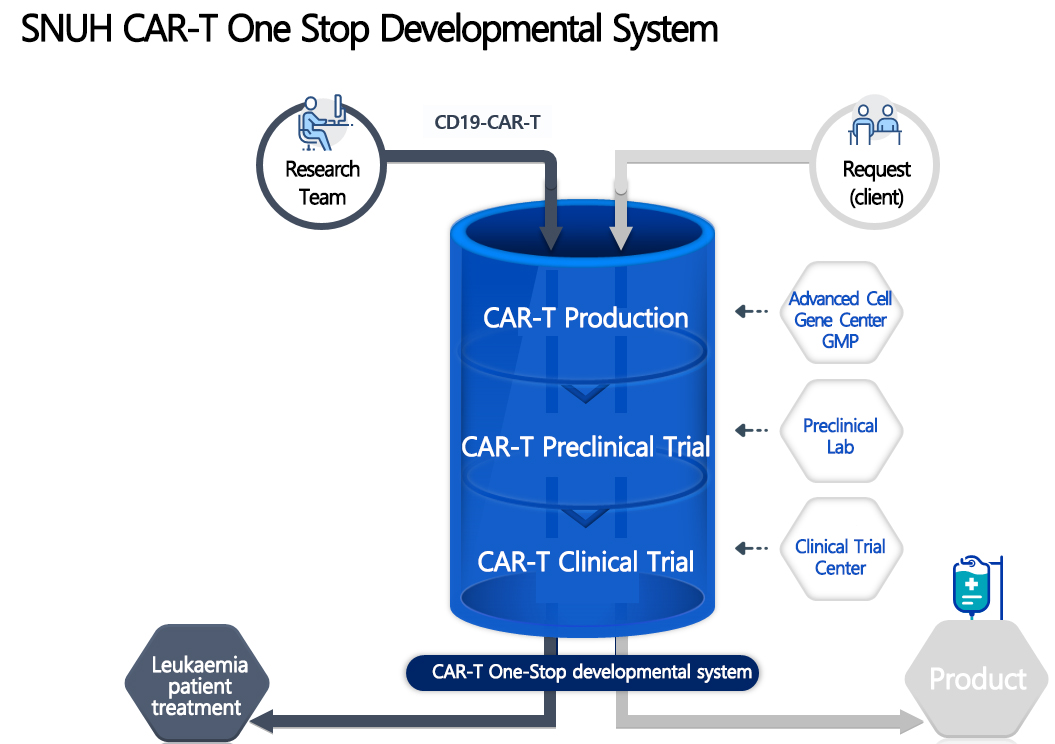 [Figure] SNUH CAR-T One Stop Developmental System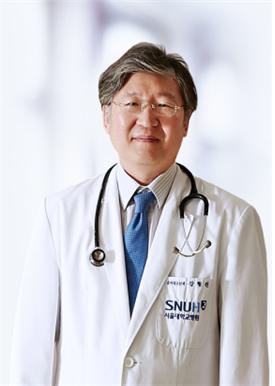 [Picture] Dept. of Pediatrics, Prof Kang Hyung Jin